For more information please see - How to set up a call flow using the IVR system & IVR Explanation

Custom Time rules:
Additional/Custom time rules can be added when you know the company will be unavailable on certain dates, some examples of custom rules
Business is on a training day/week etc. in the future.
Company is on annual leave
Holidays outside of the pre approved public holidays (see below)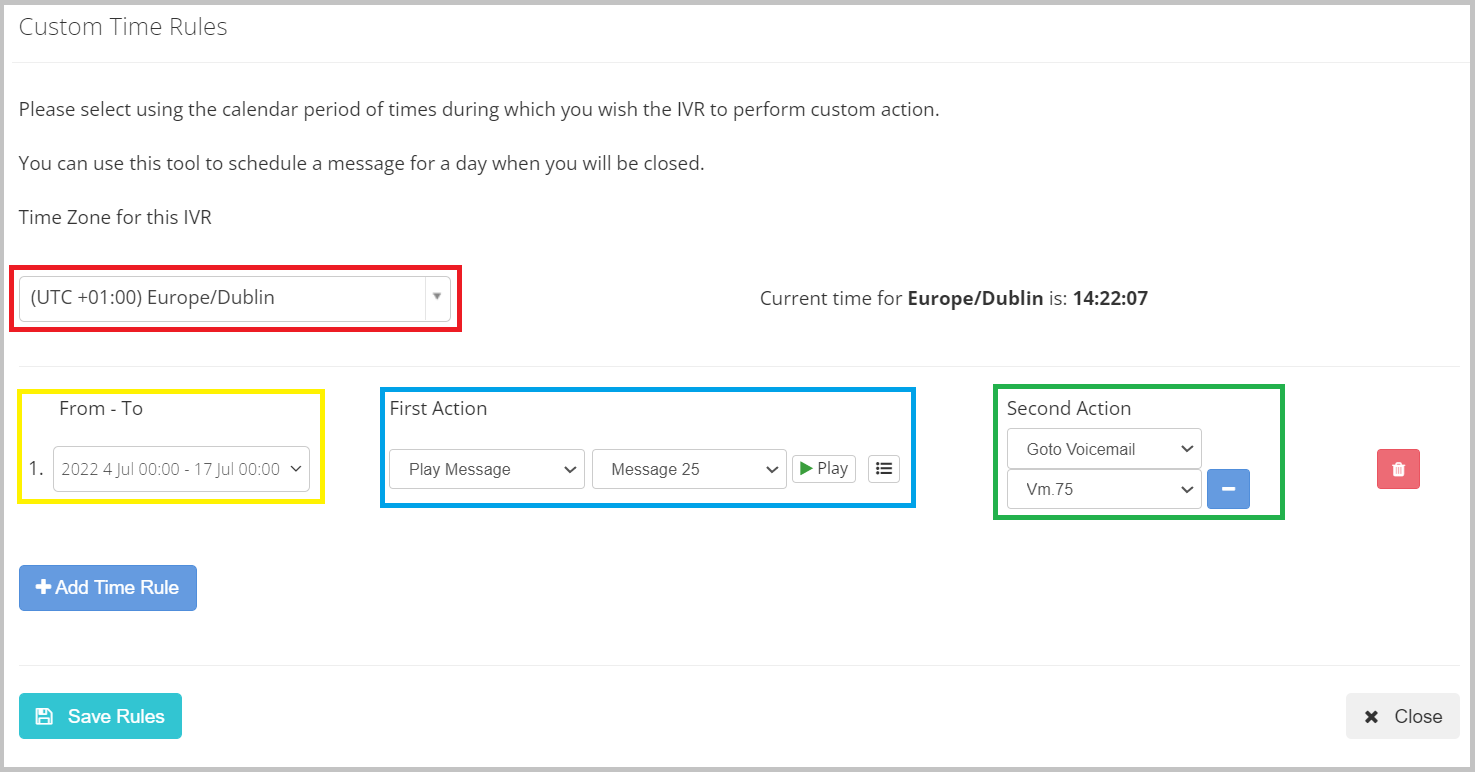 (In this example, company X is on annual leave for 2 weeks)
The Region has been set to the location of the business (highlighted in red)
Using the From - To Calendar button, The Date has been set for 14 days (highlighted in yellow)
for when this custom time rule will be actioned
The First Action has been set to play a pre-recorded announcement/message that will let people know the status of the business during the 2 week period annual leave (highlighted in blue)
The Second Action has been set to let people leave a voicemail on mailbox 75 if they wish to do after hearing the pre-recorded announcement/message from the first action
Once complete, click on the Save Rules Button
Action Options
Do Nothing
Play Message - Plays a pre-recorded announcement/message which is uploaded to the announcement portal or you can record or overwrite current messages
Dial Extension - Chooses a single extension/agent to call to
Join Queue - Joins a Hunt Queue for a particular group of extensions/agents
Go To Voicemail - Provides the caller to leave a voicemail within that voicemailbox
Forward To - Forwards the call to an external phone number
Go to IVR - Routes the call to another Call routing setup in your system
Public Holidays

Once turned on, you can set custom actions which will be used during your country's pre approved public holiday list (in this example we used Ireland's public holiday list) and set the Christmas Announcement to be heard, more detailed actions can be used. please see above.