Step 1. Initial Setup
Step 2. Configuration
Step 3. Click-to-Call
Initial Setup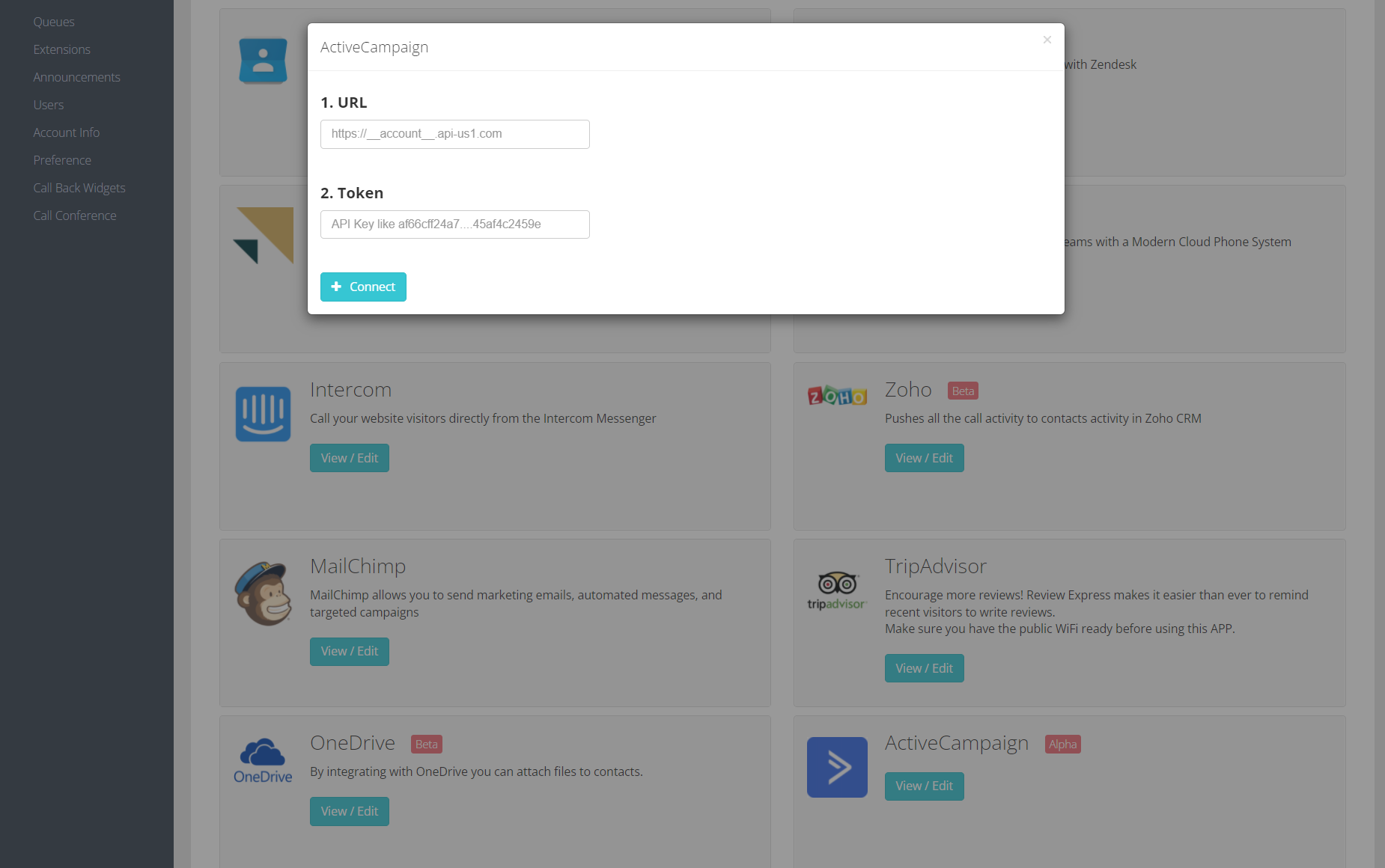 Log in to your NUACOM Account.
Navigate through the menu on the left side of the screen to > Settings > Apps and Integrations.
Once within the Apps and Integrations section, you will see our other integration platforms. Under the ActiveCampaign section, Click on 'View/Edit'.
To find out your ActiveCampaign URL and Token, log in to your ActiveCampaign account, click on the Settings icon located at the bottom of the left-hand side menu. A submenu will appear with 10+ options. Click on "Developers". There will be your

API Access information, such as URL and Token. Copy and paste them into the NUACOM modal and then click on the "Connect" button.
Configuration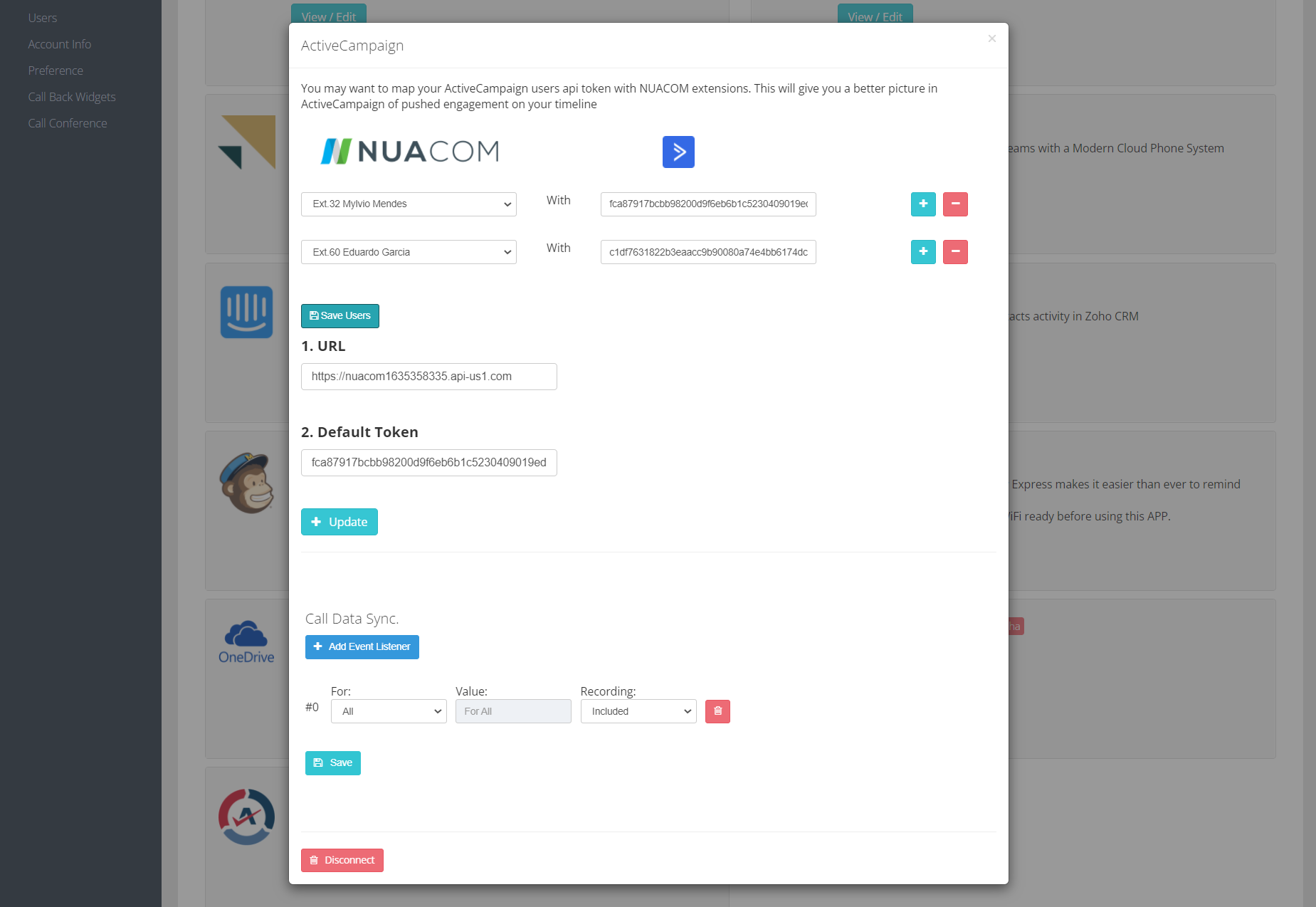 Once you have connected the two accounts, it is time to map users. Click again on View/Edit and this time you will see the modal with some extra fields. Please click on "Add User Config" and a new line with the dropdown fields will appear.

On the left-hand side field, please choose a NUACOM user. On the right-hand side field, you should choose the same user but on your ActiveCampaign account. Each user has their own token (User API Key) and you as an admin should request them individually. Once you entered the credentials for the first user, you can click on the "+" icon on the right-hand side to map another user.


The next step is to map tags. This is an optional feature for users that would like to leverage automation. In this step, you can map your NUACOM Call Tags with your ActiveCampaign Contact Tags. For example, if one of your users makes a call that converted the prospect into a customer, you can use the tag "Deal Won" from NUACOM and it could automatically add any tag that you wish to your contact on your ActiveCampaign. Then, based on tags, you can trigger any automation.


The next step is to configure how the calls are synchronized with ActiveCampaign. Under "Call Data Sync.", please click on the "Add Event Listener" button. You can choose to sync calls from a particular queue, phone number or all of them. You can also choose to sync the call recording or only the call activities. Then, click on the "Save" button and now you can close the modal by clicking on the "X" icon on the top right-hand side.

- All: If you wish to monitor all phones.
- Number: If you wish to monitor a specific number.
- Queue: Setup in the Queue section, monitor all calls from a group of phones, for example, all Sales phones.


Value
When choosing 'Queue' you may select the group you have already set up.
When choosing 'Number' you must select the exact number you wish to monitor.


Recording
Choose to record all calls or not

• Included
• Do Not Include
PS: do not forget to click on "Save". To close this modal, please click on the "x" on the top right, or just click outside the modal. Now, let's go to the last step and set up the click-to-call function.
In-App Contact Information
Now that you have integrated your ActiveCampaign with NUACOM account, to experience the In-app contact information, you should reload your NUACOM desktop app (Command+R on Mac or Contrl+R on Windows).
Click-to-Call
To be able to call directly from the ActiveCampaign interface, you would need to install NUACOM Chrome Extension. You can find it on our Apps & Integrations page or by just clicking here.
On the NUACOM Chrome Web Store page, click on Add to Chrome. It may take 30 seconds for the NUACOM extension to be added.
Once you have installed NUACOM Chrome Extension, on the top right of your Chrome Browser, please click on the Extension Icon, find NUACOM from the list of extensions and pin it.
Then, click on the NUACOM extension and enter the same credentials you use to log in to your softphone and user portal. Once you are logged in, you will be required to choose your extension and the method of calling: ringing your extension or starting a call from your softphone. We recommend the second option if you use NUACOM desktop softphone and the first option if you only use NUACOM IP phones.

Once you select to use Nuacom App on this PC, here is the pop up your browser may ask you to confirm an action:

Furthermore, you can also enable/disable the option to edit the number before dialing and display an inbound call pop-up notification.
PS: We also offer the option to open a particular URL, using the Pop-up Notification button, but with the latest ActiveCampaign Integration Update release, this is no longer required by ActiveCampaign clients using the NUACOM softphone.