Connect your phone to the corporate IP telephony network as shown in the following diagram.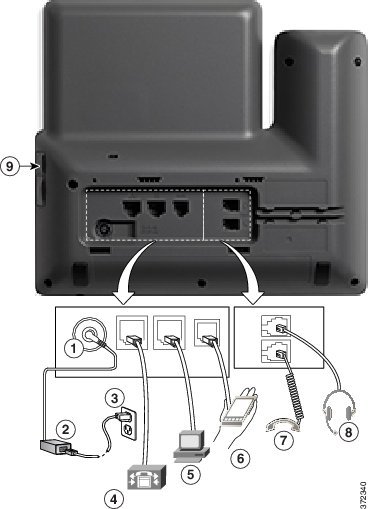 1. DC adaptor port (DC48V).
2. AC-to-DC power supply (optional).
3. AC power wall plug (optional).
4. Network port (10/100/1000 SW) connection. IEEE 802.3at power enabled.
5. Access port (10/100/1000 PC) connection.
6. Auxiliary port.
7. Handset connection.
8. Analog headset connection (optional).
9. USB port.
Note:
Each USB port supports the connection of up to five supported and nonsupported devices. Each device connected to the phone is included in the maximum device count. For example, your phone can support five USB devices (such as two key expansion modules, one headset, one hub, and one other standard USB device) on the side port. Many third-party USB products count as multiple USB devices, for example, a device containing USB hub and the headset can count as two USB devices. For more information, see the USB device documentation.