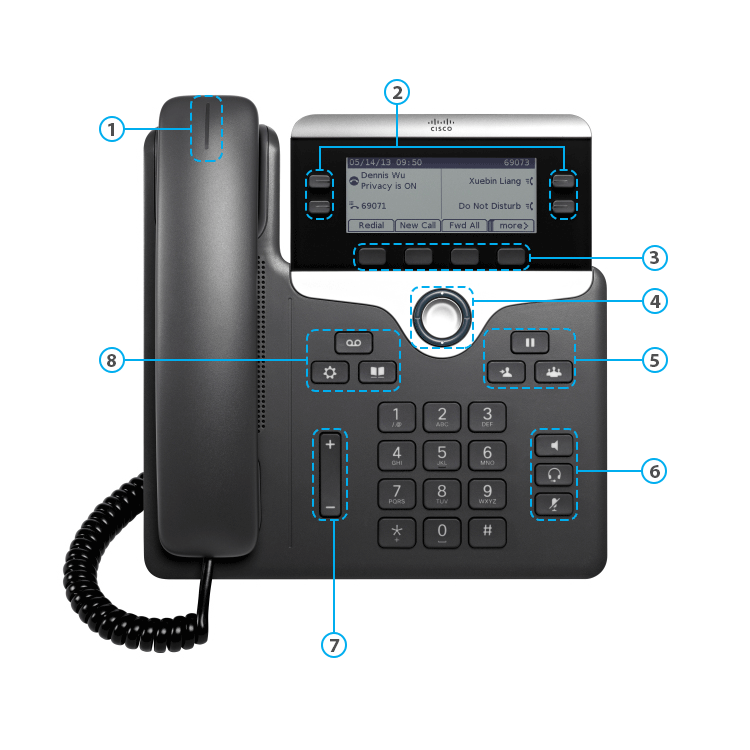 #


Phone Features


Description


1



Handset and Handset
light strip



Indicates whether you have an incoming call (flashing red) or a new voice message (steady red).



2


Programmable feature buttons and line buttons


Access your phone lines, features, and call sessions.


3



Softkey buttons



Access to functions and services.



4




Navigation cluster




Navigation ring and Select button. Scroll through menus, highlight items, and select the highlighted item.



5




Hold/Resume

,


Conference

, and Transfer




Hold/Resume: Place an active call on hold and resume the held call.

Conference: Create a conference call.

Transfer: Transfer a call.



6




Speakerphone, Mute, and Headset





Speakerphone: Toggle the speakerphone on or off. When the speakerphone is on, the button is lit.

Mute: Toggle the microphone on or off. When the microphone is muted, the button is lit.

Headset: Toggle the headset on. When the headset is on, the button is lit. To leave headset mode, you pick up the handset or select Speakerphone.

7




Volume

button




Adjust the handset, headset, and speakerphone volume (off hook) and the ringer volume (on hook).



8

Contacts

,

Applications

, and

Messages

Contacts: Access personal and corporate directories.

Applications: Access recent calls, user preferences, phone settings, and phone model information.

Messages: Autodial your voice messaging system.